Show of Shows
in the Gallery
ON DISPLAY IN THE PURCELL GALLERY 
AT THE LOUISA ARTS CENTER FROM
September 23 – November 17
during box office hours 
Tuesdays – Fridays 12 – 2 pm
& 1 hour before performances
in the Cooke-Haley Theater
Submissions for this open show are to be dropped off along with a completed Call For Entries form on September 17th from 9-11am in the Purcell Gallery.
In this open gallery show, artists will submit pieces using a prior open show theme from the Purcell Gallery as the topic of their artwork. The art must not have been previously shown in the Purcell Gallery.
Show theme options include: About Face, The Sound of Music, Distinctly Louisa, Inside and Outside, Art in Motion, Shadows and Reflections, Rhythm and Light, Pollock's Influence, O Say Can You See, Down on the Farm, Horsing Around, It's All Black and White, Falling Into Color, People, Places and Things, Terra Cotta and Textiles, On the Road, In the Round, Drop Us a Line, For the Birds, and All Aboard.
Virtual Gallery
Visit our virtual gallery to see what's on display in the gallery now and to purchase artwork!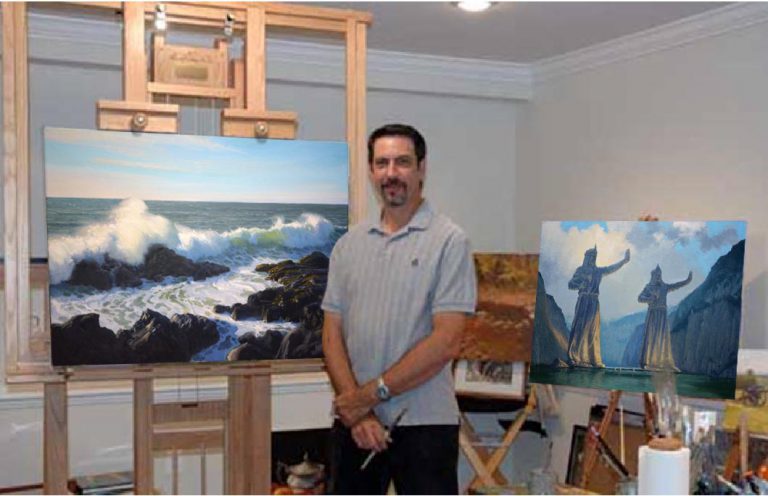 Armand Cabrera makes his home in Lake Monticello, Virginia. An award-winning, self-taught artist, Armand is a full-time painter represented by fine art galleries across the United States.
Armand has spent over 2 decades as a successful production artist in the computer games and entertainment industry, creating conceptual designs and background art. His clients include LucasFilm Games, Disney, Electronic Arts, Virgin Entertainment, Zynga, Nickelodeon, Microsoft and Paramount Pictures.
Armand has had numerous One-Man Exhibitions and his work is found in notable corporate and private collections around the world. He has been juried into the prestigious Laguna Plein Air Competition, Plein Air Easton, National Arts for the Parks, Sonoma Plein Air, California Art Club Gold Medal Exhibitions, Napa Valley Museum,
The Haggin Museum, International Museum of Contemporary Masters "Salon International", Allentown Museum of Art, Art in Embassies Program, Zion National Park Centennial Art Exhibition and many other National & International exhibitions. Armand has been honored with top awards at many of these shows. In addition, Armand has been selected as Juror at respected Plein Air and Studio Exhibitions across the United States.
Armand writes informative articles about his painting process, the business of art and historical artists on his very popular blog. ArtAndInfluence.com Armand occasionally teaches studio and plein air painting in oil, acrylic and watercolor. He also teaches online classes on Zoom.
Armand is often published in regional and internationally known art publications. International Artist Magazine, American Art Collector, Art of the West, Art Business News, The Piedmont Virginian, Elan Magazine, Plein Air and Southwest Art Magazines have recognized Armand as one of the premier, contemporary painters in the country.