Magical Forest Book Nook
Craft Class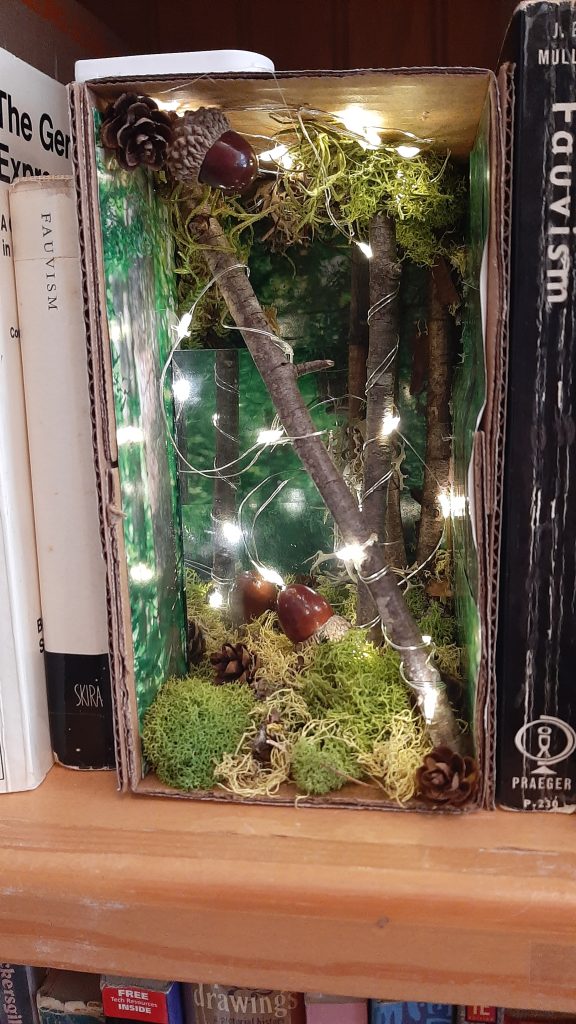 May 21, 2022
1:00 – 4:00 PM
Registration Deadline: 5PM on May 19, 2022
Students will work within the space of a small box to create the illusion of depth, beauty and mystery. Learn quick techniques for wiring an art project, create an optical illusion with mirrors and give new life to natural materials. The finished product can be nestled among books on a bookshelf to simulate an enticing secret world. If you have sticks and twigs from their yard, bring those along. All other supplies will be provided.
Ages 12+
ABOUT THE INSTRUCTOR
Rose Guterbock is an award-winning figurative oil painter, self-taught silversmith and mother of two based out of Central Virginia. She has pursued a career in the arts since graduating with a BFA in Painting from George Mason University's School of Art in 2010. In 2013, she co-founded The C'ville Art Blog, which joined in partnership with C-Ville Weekly to publish art reviews. She founded her jewelry business, Mirthful Mother Artisan Crafts, LLC, in 2014. She has participated in approximately thirty gallery exhibitions and twenty craft shows since 2010. One of her paintings won Best in Show in the Annual Juried Members Exhibit at the Shenandoah Valley Art Center in 2019. Her studio is located in Waynesboro, Virginia.
Scholarships are made available through the generous support of the LaVahn & Mary Frances Hoh Scholarship Fund for youth under age 18. This fund ensures each and every child has the opportunity to attend any of our programs and events and will not be excluded due to financial concerns.
Click the link above to open the scholarship application form. The form can be completed on the computer and saved or printed out. Please send the form with the subject line "Scholarship Application" to Karen Welch at executivedirector@louisaarts.org once it has been completed or bring your completed scholarship application in to the box office during normal box office hours (Tuesdays – Fridays 12-2pm).