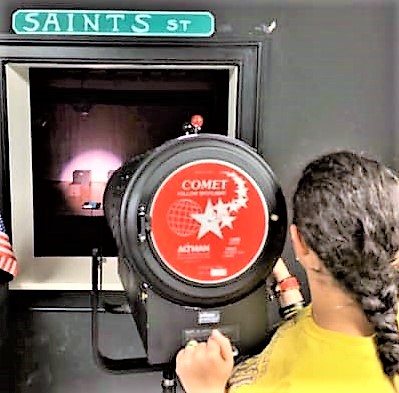 June 28 – July 2, 2021

Director: Alan Crummette

1:00pm – 4:00pm (June 28 – 30) & 9:00am – 3:00pm (July 1 – 2)
Grades: 7 – 12
REGISTER ONLINE HERE FOR GRADES 7 – 12
Camp Sight and Sound provides a great opportunity for those that prefer to be behind the scenes working on a theatrical production. While working alongside experienced professionals, campers will be given a hands-on approach to lighting and sound design. Campers will gain a working knowledge of light and soundboard operations and will participate as a member of our stage crew by creating and designing an audio/visual program for the performance of Camp Bravo! Campers must bring a bag lunch on the final two days of camp.
Registration for camp is completed in 2 steps:
Pay for camp online by following the correct link above, or in-person through our Box Office Tuesdays and Thursdays from 12pm – 2pm.
Fill out and return the 2021 Registration Packet by June 25, 2021. Registration forms must be received prior to the beginning of camp. Please email completed forms to programmingdirector@louisaarts.org or mail forms to the following address:
The Louisa Arts Center – PO Box 2119 – Louisa, VA – 23093
For the health and safety of everyone in the camp and at the Arts Center, please review our Safety Rules and Measures prior to the beginning of camp. The minimum number of students that must be registered for this camp is 4. If the minimum number is not met by Friday, June 25, 2021 at 5:00pm campers will be notified of the cancellation and payments will be refunded.
The Louisa Arts Center offers a limited amount of scholarships for Summer Camp participants. Fill out our 2021 Scholarship application and submit completed forms by email to programmingdirector@louisaarts.org or mail to the address indicated above.
Camp Sight and Sound is made possible by our generous sponsor the LaVahn and Mary Frances Hoh Scholarship Fund.